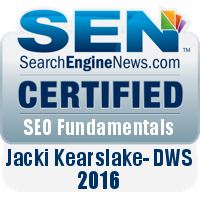 Feeling pretty pumped today – I've just completed a certification in SEO Fundamentals.
The course was run by John Heard, of Search Engine News.
In many ways, this was a refresher course: Google's basic rules haven't changed for a long time, although many agencies still don't seem to know what these are 🙁
The code and much of the technical makeup of the internet also hasn't changed.
But it's often good to revise the basics: you and your team do this annually with CPR, and I'm sure that you still find that some of the CPD courses you do contain content that is essentially revision. [Read more…]