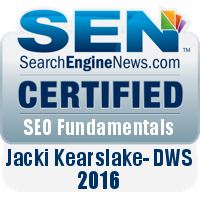 Feeling pretty pumped today – I've just completed a certification in SEO Fundamentals.
The course was run by John Heard, of Search Engine News.
In many ways, this was a refresher course: Google's basic rules haven't changed for a long time, although many agencies still don't seem to know what these are 🙁
The code and much of the technical makeup of the internet also hasn't changed.
But it's often good to revise the basics: you and your team do this annually with CPR, and I'm sure that you still find that some of the CPD courses you do contain content that is essentially revision.
However, there are always gold nuggets in every training, and this one was no exception.
I'm now working my way through an Advanced Local Search training, alway with Search Engine News, under trainer and industry expert, Mary Bowling.
Will share some nuggets about both these trainings over the coming weeks.